148TON Caps making injection moulding machine(SSF1480-K5)
Parameters
Description
Accessories
Application
SSF1480-K5 Parameters

Items

Parameter

Unit

SSF1480-K5

Injection Unit

Screw diameter

mm

A

B

C

38

42

45

Screw L/D ratio

L/D

22.1

20

18.6

Shot volume(theoretical)

Cm3

226

277

318

Injection weight(PS)

g

206

252

289

Oz

7.2

8.8

10.1

Plasticizing Capacity

g/s

16

22

28

Injection rate

g/s

94

115

132

Injection pressure

Mpa

208

171

149

Screw speed

rmp

185

Clamping unit

Clamp force

KN

1480

Open stroke

mm

380

Distance between tie bars (W*H)

mm

410*410

Max mould thickness

mm

450

Min mould thickness

mm

160

Ejector stroke

mm

120

Ejector force

KN

50

Ejector number

PC

5

Dia of mould location hole

mm

125

Others

Max pump pressure

Mpa

16

Pump motor power

KW

13

Heating power

KW

9.3

Machine dimension(L*W*H)

m

4.5*1.35*1.9

Machine weight

T

4

Oil tank capacity

L

250
Notes:(1)Theoretical injection volume=screw diameter×screw stroke;
(2)Actual injection weight is 91% of the theoretical volume;
(3)All the data is PS values.
Remark: Above-mentioned technical parameters are all theoretical values in 50HZ operation state. The technical parameters are subject to change for technical improvement without notice.
Mold platen drawing: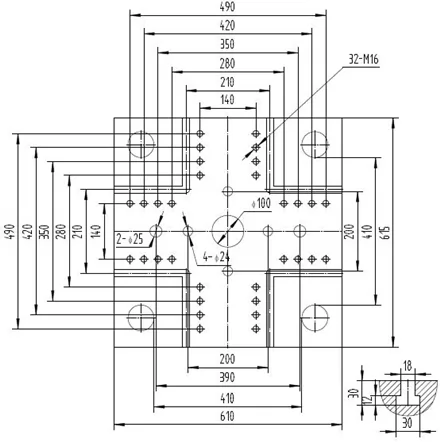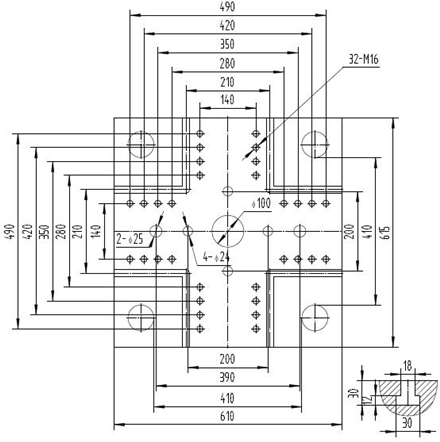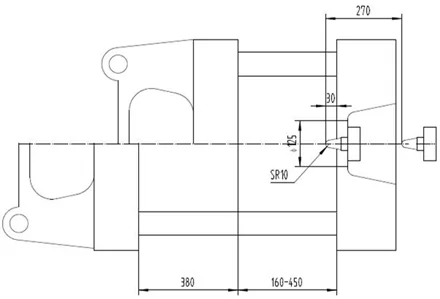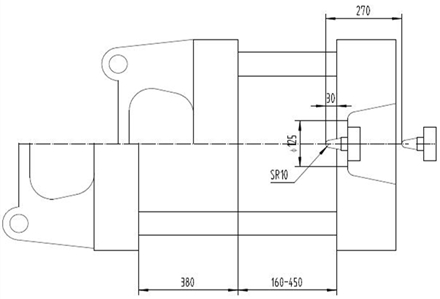 SSF1480-K5 injection molding machines applies to the injection molding process of various kinds of thermoplastics.
Clamping unit: The platens were designed using Finite Element Analysis software, ensuring a stable and rigid clamping system. Five-point inward moving toggle system ensures high rigidity and precision for mold clamping and also reducing stress and stain effects;
The moving platen is fitted with adjustable slide support system to improve platen parallelism and provide better tie bar and mould protection and lengthen the working lifetime.
Chrome plated tie bars, made from alloy structural steel are designed and manufactured for high rigidity and wear-resistance.
Extended clamp opening stroke with larger distance between the tie bar's to meet the special molding requirements.
Injection unit: A wide variety of screws are available for different polymer processing requirements. Special engineering materials are used to manufacture the screws to ensure optimal quality and processing life;
High quality nitride or chrome plated alloy screw with a nitrogen-treated barrel provided anti corrosion with high wear resistance for an extended working life.
The injection unit incorporates a dual-pillar supporting system with balanced twin cylinder injection unit for evenly distributed force and rapid screw motion;
Nozzle alignment is provided using a simple mechanism with fine adjustment for accurate centering;
Hydraulic system: The hydraulic oil flow design applied modular block technology for rapid oil transfer and dynamic system response. Control valves are located in close proximity with each major control group.
Charge back pressure makes melting precise and stable, of which can meet all kinds of new products with different injection process.
World renowned control valves applied to precisely control every machine movement. Fixed pump system provides stable output, quick response, powerful strength.
Major hydraulic components and seals are sourced from world famous manufacturers providing high reliability and interchangeability.
Oil pipelines are positioned for aesthetic appearance and easy maintenance.
Control system: Screen protection function, extends the life of the screen
Super light emitting diode display status for input/output point, make it easier for operation and maintenance personnel to master system's movement status
Set the keyboard lock function, prevent operators to make any changes of the stored information
Computer set and PID closed-loop controls heating temperature precisely, the temperature ranges from 0~399°C.
Complete close electrical control box, electrical components arranged neatly. Mutual interference, and has the function of dustproof and waterproof.
The control panel applies color screen technology, of which detect production process and display all kinds of malfunction analysis.
The latest computer system provides fast information response with user-friendly operation.
The toggle system uses oil-sleeve bushes lubricated by an automatically control central lubrication unit which provides excellent lubrication quality to all points and extends the clamping unit working life.
There are 2 type of lubrication agent, one is lubrication grease, the other is lubrication oil, per customer's final products requirements, medical parts prefer to use lubrication oil to avoid any contamination.
Standard features
Double-cylinder balanced injection system
Multi-stage pressure & speed injection
Back pressure adjustment device
Low pressure mold protection
Double hydraulic core pulling valve block
Multiple hydraulic ejector knock-out
Mechanical, Electrical safety device
Auto lubrication system
Hydraulic pressure full proportional control
All computer control system
Mold data memory system (Can save 199 set molds data)
T-slot mold platen
Standard components
Mechanical leveling pad
Extended nozzle
Spare parts (O-rings)
Tool box
Lubrication grease
Optional functions & Auxiliaries
Double air blast valve
Double core pulling valve
Water regulation meter
Ceramic heaters
Water flow regulator
Three color alarming light
Euromap 12,67 robot interface
Oil bypass filter
Back pressure valve controller by computer
Hydraulic safety device
Robot
Hopper dryer
Auto loader
Hopper magnet
Mold clamps
Chiller
Plastic dehumidifier
Mold temperature controller
Oil temperature controller
Hardware industry plastic parts, electronic cover, glasses frame, packing products like PET performs, caps and daily used commodity, Stationery, PVC pipe fitting, Agriculture irrigation, Automobile parts.
Hot keywords: