SH230 Hybrid Injection Molding Machine
SH230 Parameter
Machine Model
SH230
Injection Unit
Screw Diameter
mm
40
45
50
Screw L/D Ratio
L/D
24.75
22
19.8
Shot Volume
cm3
251
318
392
Injection Weight(PS)
g
228
289
357
Injection Speed
mm/s
300
Injection Rate
cm3/s
375
470
580
Injection Pressure
Mpa
278
220
178
Injection Stroke
mm
200
Sphere diameter of nozzle
mm
SR10
Screw Speed
rpm
400
Clamping Unit
Clamping force
KN
2300
Toggle Stroke
mm
485
Space Between Tie-Bars(WxH)
mm
530X530
Max. Mold Height
mm
550
Min. Mold Height
mm
200
Dia of mould location hole
mm
125
Ejector Stroke
mm
142
Ejector Tonnage
KN
70
Ejection number
piece
9
Others
Max. Pump Pressure
Mpa
16
Pump Motor Power
KW
23
Total Motor Power
KW
76
Heater Power
KW
13
Machine Dimension(L*W*H)
m
5.6X1.5X2.2
Machine Weight
ton
7
SH230 Features
Intelligent control module, increase machine perception.
It is equipped with standard temperature monitoring and real-time temperature display, which can accurately control the temperature of material feeding port.
Two sets of lubrication are provided as standard. Mold locking and electric injection are lubricated separately to ensure sufficient lubrication and reduce maintenance cost.
It is equipped with standard servo motor temperature monitoring, and the cooling fan is opened when servo motor reaches to a specific temperature, which can reduce noise and power consumption.
Standard hydraulic oil temperature monitoring, real-time temperature display, small hydraulic oil temperature rise, can achieve zero cooling water use.
The host computer can operate and monitor the auxiliary machine.
Optional with Hongsu Cloud monitoring system, the machine dynamic parameters and production efficiency integration will be real-time monitored by mobile phone.
Optional power meter monitoring system, real-time display of machine energy consumption, of which can calculate accurately the power cost of a single product.
Multiple modular injection device, convenient to expand all kinds of special engineering, reduce machine delivery time.
Electric injection device with precision linear guide can expand screw barrel of various lengths, equipped with standard precision and super durable screw, applicable to all kinds of engineering plastics.
Servo electric charging device, precise control of charging pressure and speed, can effectively ensure precision molding.
Double injection moving cylinder can stably control injection seat deformation.
Extra space reserved for electric box.
Mold clamping and injection movement at the same time, also for mold opening and charging and etc, it can solve all kinds of complex injection molding process.
Mold locking mechanism, strong rigidity of the overall machine frame, improve product stability.
Mold platen thicken, so relative deformation is small, the mold locating hole is small, can prolong the mold lifetime.
The second stage sliding foot joint design of the movable platen can ensure that the molvable platen copper sleeve is not worn.
The frame adopts through beam structure, with strong overall rigidity and small deformation.
Enlarged tie bar, clamping shaft and steel sleeve, reasonable lubrication design can ensure the effective service life of the machine.
The internal pressure mold closing oil loop design, with high precision of mold opening position.
Application Range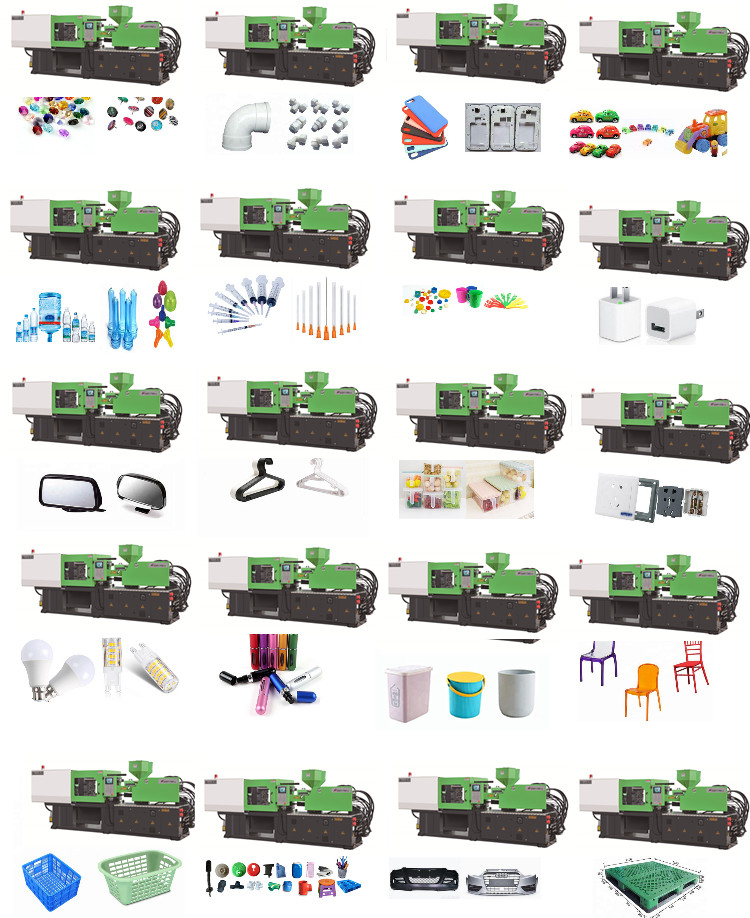 If you have any query about our injection molding machine, just contact me at any time
Share your thoughts with us today!
Showing

6

of

0

reviews
Contact Us Now
Enter your inquiry details, We will reply you in 24 hours.
Phone can't be empty
Phone
Products can't be empty
Products you want
Verification code error
People who viewed this item also viewed